Oleg Topolyanskiy
Distinguished Artist of Russia

He graduated from the Moscow Art Theatre School (course of A. Pokrovsky) in 1995 and was admitted to the troupe. He made his debut in the role of the Jew ("Little Tragedies").

In 1998-1999. worked in the Moscow Theatre managed by A. Dzhigarkhanyan, where he played in performances "The Government Inspector" (Mayor) and "Homecoming" (Joe).

Since 2001 — an actor of the Moscow Art Theatre.
Played in such performances as: "The Beautiful life (La belle vie)" (Chairman of the Revolution Committee), "The Seagull" (Medvedenko), "Zero" (Dumd brother Bogush), "The sun was shining" (Famusov), "The White Guards" (Von Dust).

Playing in the performances: "Hamlet" (Rosencrantz), "The Golovlevs" (Steward, Father, Doctor, Kukishev), "The Pickwick Club" (Mr. Tracy Tupman), "King Lear" (Nurse (Fool)), "The Wood" (Vosmibratov), "The New American" (Huriev), "Flying-pass goose", "Swift current river" (Klucharev, Neighbour), "Ondine" (King).

In the Moscow Theatre managed by O. Tabakov staged "Under the blue sky" (2006); in the Moscow Art Theatre staged "Dance of an Albatros" (2007).

Acted in such films as: "The case of Dr. Lekrinym" (2004), "The Dove" (2007), "Two in the rain" (2007), as well as the TV series "The Team" (2003), "Nine Unknown" (2005), "I shall return" (2007), "Law and Order" (2007).

Since 1995 teaches acting technique at the Moscow Art Theatre School and the American studio.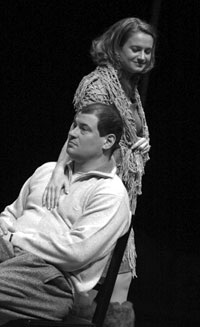 © Åêàòåðèíà Öâåòêîâà